Team VFP is back from Dreamforce and what can we say? It was truly a dream! Over the course of the week, we took part in seminars, panel discussions, concerts, and even threw our very own VIP Happy Hour alongside FinancialForce.
There was a lot to take in but here are the three most important things we learned at Dreamforce 2019.
Be kind and be useful
The highlight of Dreamforce was Barack Obama's very real and honest discussion on leadership in the modern age. The words that stuck with us the most?
"Be kind and be useful."
It's something Obama instills in his own daughters and has become a guiding point for him in recent years. "Regardless of our surface differences, there's a core humanity and dignity to each of us that has to be shared and respected."
Obama spoke honestly about his worries that technology may be leading society astray, adding, "Part of solving big problems is not just a matter of finding the right technical solution, but also figuring out, 'how do we restore some sense of our common values?'"
A notable takeaway from Obama's fireside chat with Salesforce Co-CEO Marc Benioff is that while technology and the internet can be a powerful tool to unify people, current internet companies have caused mass confusion about what is credible and what is not. It's important we keep open minds about the information that is presented to us online.
Values enhance innovation
One of the discussions that resonated with us the most was Apple CEO Tim Cook's invigorating talk with Marc Benioff.
In a conversation that included thoughts on mobile's role in the enterprise, Cook expanded on the intersection of innovation and values. For Cook, values enhance innovation. And as a company that lives by its own core values (heck, we even put ours in our name!), Cook's words hit close to home. While every business has its own unique values, the sentiment is the same none-the-less.
Talking about how he leads Apple to continue 40 years of innovation, Cook said, "At some point, you recognize the reason we are all here is to help someone else. That is the sole reason we are here. And once you get that in your head, life gets so much simpler."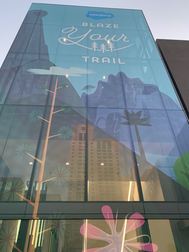 Diversity and soft skills will eclipse technical expertise
Over the past few years, soft skills such as leadership, adaptability, problem-solving, and the ability to manage and control your emotions, have become just as important in the workforce as more traditional hard skills. According to a study, they could very well be more important than technical expertise and experience.
Keynote speakers Dr. Frida Polli, Co-Founder and CEO of pymetrics, and Lily Gangas, Chief Technology Community Officer at the Kapor Center, discussed the need for soft skills in our industry.
When it comes to diversity, and more specifically, the tech industry's lack of representation, Dr. Polli said, "When we have a homogenous group creating technology, if you're not thinking of the unintended consequences, you're doing it wrong. We're leaving a lot of undeveloped talent on the table and that's not good for anybody."
Gangas agreed and added, "To create new systems, we need new founders. If someone isn't asking tough questions, you're building blindly. I think we can do better and we should."
At VFP, we continue to learn and build our expertise (both in soft and technical skills) in order to become better implementation partners and leaders. We build our skills every year to stay on top, and attending Dreamforce is a great way we can expand our knowledge of quote-to-cash and the technologies coming out on the Salesforce platform (Customer 360 Truth! Einstein Skills!) in order to deliver the best service to our customers.
Marco Casaleina, Salesforce Vice President of Einstein Products, wrapped it up nicely. "It all starts with a question — one that makes sense for your business."
Putting customers at the center of everything you do and asking the tough questions is the key to truly understanding your market and becoming a trailblazer in your industry.
Tell us: which Dreamforce takeaway resonates with you the most?