VFP Consulting joins the 3-digit club on the INC 5000 list for the 2nd year in a row
What we should say: We are honored to be recognized on the INC Magazine's list of fastest-growing companies for the second year in a row. (Which is true. We are very honored).
What we are compelled to say: Growth comes from hard work, and when you have a great team that has worked incredibly hard individually and together, we believe it's important to showcase the incredible value that creates. (So let's share this recognition with the people who made it real).
It's greater than the energy, intuition, smarts, attitude, and experience of any one person. It's about the combination of skills, commitment to a vision, the motivation to put the hours in, the attitude to build up the people around you, and the celebration of success when it really counts.
And getting listed twice as one of the top 1000 companies in the US for growth is definitely a reason to celebrate the people, the colleagues, the friends, and the families that make it all possible.
In the upcoming year, our focus will be on the quality of the work we produce, and the consistency of that quality as we grow. We trust in our cultural foundation, and our team, and our continual investments in our people, partners, and friends to not just grow, but to improve every year.
In 2021 VFP Consulting landed #920 on the INC 5000 list of fastest-growing companies in the US, and last year in 2020, pre-covid, we came in at #667.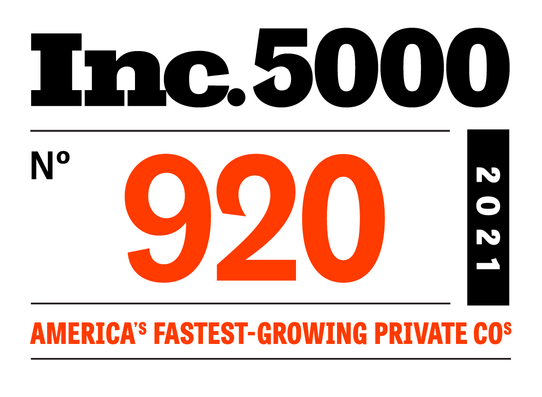 Normally that change would make us wince. But, in a year where so many needs were fast-tracked and we saw firsthand the great companies that stepped up during the pandemic, we are happy that we found a way to support the digital transformation of companies looking to invest in our collective future.

We have always been a remote company, that's not new to us. It's a model we know works. But, until 2020, we had never done it without travel and face time with our customers.
So, as everyone did, including our customers, we evolved. We continued to discover new ways to work remotely across our team and with our clients. We were surprised by how many advantages there were, and it's a hybrid model we will keep and build for the future.
We found ways to be more productive, connect as a team, work in micro-groups, and keep building our skills and our culture. We are passionate about what we do, but our purpose is bigger than technology adoption and implementations. It's about creating a place where people want to work, love to work, are inspired by the team around them, and make each other's lives better. That's what drives a great team experience, and as a result, a great customer experience.
Whatever we are doing, however, our growth is ranked, we always come back to our name and our core values: V=Vision for the future, F=Focus on the delivery, and P=Passion that drives us to achieve.
So, thank you to everyone who makes #teamVFP a group of people we always want to be around. Because at the end of the day, the people in our lives are the ones that make it all worth it.